제22회 서재필장학생 선발, 9명에게 총 1만 2천불의 장학금이 지급되었습니다.
1999년 헬렌 리(Helen Lee) 장학생으로 시작한 서재필장학금은 올해 22년째를 맞이하여 그동안 221명의 우수한 학생들에게 지급하였습니다.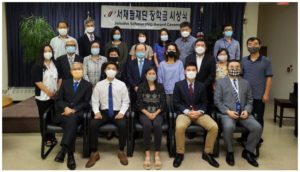 2020 JAISOHN SCHOLARSHIP AWARD CEREMONY AT JAISOHN CENTER (9/5, 1 PM):
22nd annual scholarship award ceremony was held today with 3 students and 1 parents present physically and 6 students using Zoom. Most of our sponsors also participated. PJMF is represented by Chairman of Board Dr Chong T Kim, President & CEO George Choe, Scholarship Comittee Chair Dr. Seiwoong Oh, Dr. Manuel Lee and Dr. Bang N Jeon along with our staff Jung Lee, Kyunghee Seo, Joseph Lee and Sungho Kim.